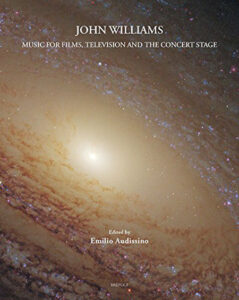 Sebastian Stoppe
John Williams's Film Music in the Concert Halls
Film music has its roots in late-romantic concert music. A number of composers of so-called "serious music" also composed for the film. And some Golden Age film composers came from the concert-music realm and, once they started their association with Hollywood, continued to pen works for the concert stage too. Film music had to struggle for a long time against the prejudice that saw it as music not to be taken seriously; it was regarded as "neglected art".
Nevertheless, film-music concerts have experienced a blossoming in the recent years. There is a large variety, from programmes that only perform film music in concert halls without any additional element to large-scale events in multi-purpose halls where film music is accompanied by film clips or provides the live accompaniment to entire films.
This chapter examines the role of John Williams's film scores in this context. Are there any special features of Williams's film music that make it particularly suitable to the concert hall? How does the performance practice of his film music differ in comparison to classical concerts? Are there any pieces that are played more frequently than others, and if so, why?
I look at the post-Williams era of the Boston Pops Orchestra, from 1994 onwards and the development of the New York Philharmonic's film-music concerts. In addition, I examine the film-music concerts of the Gewandhaus Orchestra Leipzig, which took place in the 2000s under the direction of John Mauceri and in which Williams's music was prominently represented. My investigation ends with a look at some more recent concerts that show that film music is becoming more and more accepted in the concert programmes.
"Da […] der Filmmusik nach wie vor von Seiten der im Sinne Adornos ,kulturkritisch gefestigten' Musikwissenschaftler_innen mit Vorurteilen begegnet wird, ist der Auftakt der Reihe sowohl wissenschaftspolitisches Statement als auch ein beflügelndes Signal für die Filmmusikforschung."
Sebastian Reinhard Richter in open_in_new MEDIENwissenschaft: Rezensionen | Reviews 36 (4) (2019)
open_in_new Brepols Publishers
ISBN 9782503580340 (Print)
save_alt Table of Contents
save_alt Abstracts and Contributors
lock_open
open_in_new Full Text (Postprint, media/rep/)
lock_open
open_in_new Full Text (Postprint, Qucosa)
Suggested Citation:
Stoppe, Sebastian (2018): John Williams's Film Music in the Concert Halls, in: Audissino, Emilio (Ed.), John Williams, Music for Film, Television and the Concert Stage, Turnhout, pp. 95-116
DOI:
10.25969/mediarep/16800 [media/rep/ version only]
URN:
urn:nbn:de:bsz:15-qucosa2-382104 [Qucosa version only]