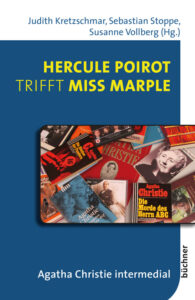 Judith Kretzschmar
Sebastian Stoppe
Susanne Vollberg (Eds.)
Hercule Poirot trifft Miss Marple
Agatha Christie intermedial
Agatha Christie has been a key figure in the world of detective stories in the 20th century. Her works are among the most widely read novels in the world to date.
Therefore, it is hardly surprising that Christie's works have been adapted in many ways for cinema, television, and the stage. This book addresses this intermediality: How does the original work compare to its transformed appearance in other media? Why are some adaptions extremely faithful to the original while others deviate significantly from the source novel? How important are distant locations, recurring motifs, or cast of characters? And where can one see certain interdependencies between the various media?
With contributions by Dennis Altman, Ahmet Atay, Werner C. Barg, Judith Kretzschmar, Bernd Leiendecker, Gabriele Pendorf, Wieland Schwanebeck, Sebastian Stoppe, Sascha Trültzsch-Wijnen und Susanne Vollberg.